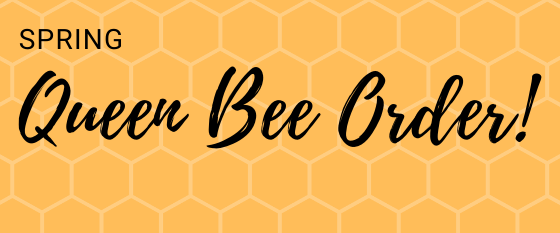 Spring 2020 Queen Order
December 24, 2019 @ 12:30 pm

-

February 17, 2020 @ 5:00 pm
SORRY ALL QUEENS ARE SOLD FOR 2020
Orders are Now Being Taken for 2020 Queens
Three Rivers Beekeepers Board has reserved 120 queens for the Spring 2020 season.  Queens are available to QUALIFIED MEMBERS* of Three Rivers Beekeepers and will be sold in advance on a first-come, first-serve basis until all Queens are sold or by February 17th, 2020 – whichever comes first.
Cost:  $28/Unmarked Queen   |   $30/Marked Queen
(Initial Orders are limited to 10 Queens each to allow greater opportunity for the overall Club.  If you would like to purchase more than 10, you may indicate so in your order and if Queens remain we will reach out to those on a first-come, first-serve basis.)
Additional Information:
Only Debit/Credit Card will be accepted for orders through the Club Website using PayPal as our Merchant provider.
The price includes shipping to the St. Charles area.
Club Members will be notified by Email when the Queens have arrived and are available for pick-up at a location in the St. Charles area.  Please note that that this day/time may be sometime mid-week.
* Qualified Members are those members who have attended 3 Club Meetings in the last 12 months or have paid the $20 Membership Fee.
Note:  While the order form allows you to order larger quantities of Queens, Three Rivers Beekeepers reserves the right to limit members to 10 queens each as needed to meet the demands of the overall Membership.
---
ORDER FORM
When you enter submit, you will be transferred to PayPal to complete your order then returned to our Website. You will then get two emails:  1) An Email receipt of your purchase from PayPal, and 2) A confirmation from the Three Rivers Website showing your entry through the following form.  If you fail to receive an email from PayPal, your order may be incomplete, so please check SPAM or Trash for this message before reaching out to the Committee.  
Share This Story, Choose Your Platform!