We are Three Rivers Beekeepers
Thank you for learning about Three Rivers Beekeepers. We are a fast-growing beekeeping club located in St. Peters, Missouri. Over 400 individual beekeepers and honey bee enthusiasts have attended our meetings. Due to this enthusiasm, our average meeting attendance is seventy-five and growing.
Because of this wide interest, Three Rivers Beekeepers serves beekeepers from the eastern Missouri counties of St. Charles, St. Louis, Jefferson, Lincoln, Franklin, Warren, Montgomery and Pike. Also, we serve many western Illinois counties bordering Missouri, in and around the St. Louis region.
We provide beekeeping presentations covering the entire spectrum of beekeeping subjects. These range from beginning to advanced, simple to complex, and conventional to alternative.
Three Rivers Beekeepers remains committed to providing fresh, creative and inspiring educational programs with a refreshing atmosphere of friendship and camaraderie. Above all, our goal is to inform our local communities about honey bee and beekeeping-related issues. We are especially proud to be a great source of information about our industry and hobby.
Three Rivers Beekeepers History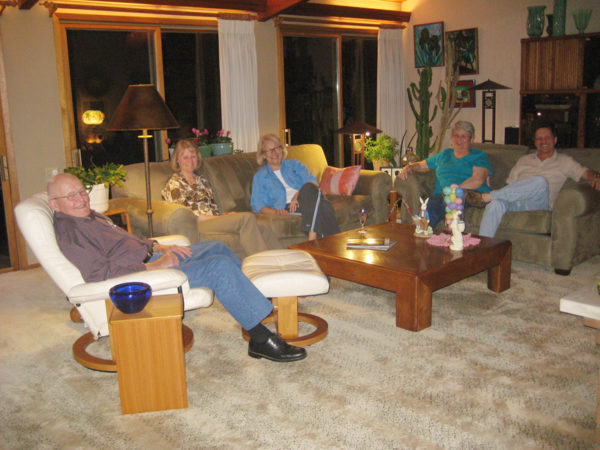 In early April of 2009, there was a lack of beekeeping support for St. Charles and the surrounding counties. Local beekeepers began discussing the need of a beekeeping club in the area. On April 15th, 2009, Ted Jansen, Marlene Jansen, Esther Jansen, Jane Timmons and John Timmons gathered in the Timmons' living room and started Three Rivers Beekeepers.  The very next day, they registered our club's name with the State of Missouri. Next, they purchased the domain name "threeriversbeekeepers.com" and the club created a simple web page.
In search of a meeting place, they contacted the University of Missouri Extension Center of St. Charles County, who graciously offered Three Rivers Beekeepers a room.
Slowly, with phone calls and word-of-mouth, the word went out that a new beekeeping club had formed in St. Charles County.
Our first meeting was held Monday, May 18th, 2009. Not expecting more than ten or fifteen people to attend the first meeting, we were stunned to welcome sixty-five!  As a result, from the very first meeting of Three Rivers Beekeepers we were the second largest beekeeping club in Missouri!