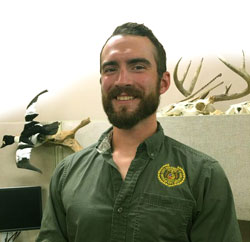 July 2023 Club Meeting – Regulations for Beekeeping, Bottling and Sales
July 17 @ 7:00 pm

-

8:30 pm
Members and Friends, please join us on July 17 for our Membership Meeting.
This will be an IN PERSON meeting at the University of Missouri Extension Center at 260 Brown Road in St. Peters
This meeting will feature Lee Connor and Eugene Makovec who will talk to us about Regulations for Beekeeping, Bottling and Sales. and Tim Fredricks who will talk about "Preparing Entries for the Missouri State Fair"
The club meeting will begin at 7:00.  You can come early – 6:00 PM –  for Q&A with experienced beekeepers.
Snacks welcome!
You can attend in person or Zoom into the meeting.  If you will be joining us by Zoom, register in advance for this webinar.
https://us06web.zoom.us/webinar/register/WN_pOvIVQJNQ16hxPp1QEcqyQ
About Lee Connor
Lee Conner has been with the Missouri Department of Agriculture since 2014 and Missouri's State Apiarist since 2017.  Lee's been a beekeeper for 8 years and currently has 10 hives at his home in Jefferson City.
About Eugene Makovec
Eugene Makovec is a 28-year, third-generation beekeeper with about a dozen colonies in Lincoln County. He has been Editor of American Bee Journal since 2018, and is serving a second stint as President of Three Rivers Beekeepers. He served on the board of the Missouri State Beekeepers Association for 11 years, and is a two-time Missouri Beekeeper of the Year (2006 and 2015).
About Tim  Fredricks
Tim Fredricks is a scientist by training and has been developing additional expertise in apiculture over the past 10 years. He actively participates in Three Rivers Beekeepers club and is has served as the President of Three Rivers Beekeepers, co-founded a bee club at work, and for fun maintains 30+ beehives primarily for queen, honey, and nucleus colony production. He enjoys bee related outreach activities, mentoring new beekeepers, and helping teach beekeeping techniques including queen rearing and producing additional products from the hives.
Share This Story, Choose Your Platform!