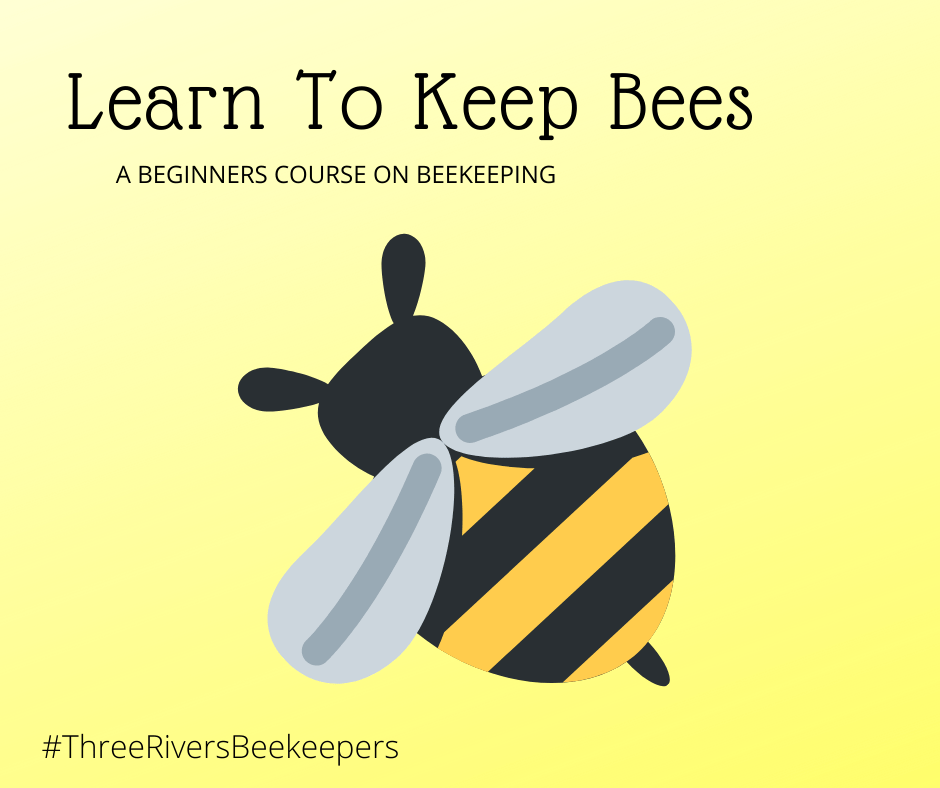 Beginning Beekeeper Course 2022
January 29, 2022 @ 8:00 am

-

5:00 pm

|

$75.00
A Beginner's Workshop to Learn How to Keep Bees
This one-day IN PERSON CLASS is a great way for those who are interested in beginning beekeeping.  Join us and learn about the fascinating honey bee,  how to manage them, and their beehive from local experienced beekeepers.
You'll also be invited to join Three Rivers Beekeepers, at no charge, for ongoing education and mentoring.
WHEN:  Saturday – January 29th, 2022 (8 am – 5 pm)
WHERE:  St. Peters Banquet Hall, St. Peters, MO 63376
HOW:  Register Online  (Using the Form Below)
HOW MUCH: $75.00 per person if registered in advance of January 15, 2022, then $85.00 per person after January 15, 2022
SPEAKERS and TOPICS:  Eugene Makovec, Dan Schmehl, Tim Scheer, James Masucci, and Tim Fredricks
Introduction to Honey Bees: Biology, Anatomy, and History
Basic Beekeeping Equipment and Options
Where Do I Get Bees? Nucs, Swarms, Packages & Breeds to Consider
Honey Bee Pests & Diseases
A Year In the Life of a Beekeeper
The Swarm: What It Can Teach Us. Attracting & Catching
Questions & Answers
Tim Fredricks is a scientist by training and has been developing additional expertise in apiculture over the past 9 years.  He actively participates in Three Rivers Beekeepers club and is currently serving as the President of Three Rivers Beekeepers, co-founded a bee club at work, and for fun maintains 10-20 beehives primarily for a queen, honey, and nucleus colony production.  He enjoys bee-related outreach activities, mentoring new beekeepers, and helping teach beekeeping techniques including queen rearing through grafting.
Eugene Makovec is a third-generation beekeeper with 24 years of experience. He is Editor of the American Bee Journal, past President of Three Rivers Beekeepers, and a two-time Missouri Beekeeper of the year. He currently manages a dozen hives in Lincoln County, Missouri.
Dan Schmehl, Ph.D. is a Principal Scientist and pollinator specialist at Bayer CropScience, based in Chesterfield, Missouri, USA. He has a BS degree in Biology from Messiah College (2007) and a Ph.D. in Entomology from Penn State University (2013) with a specialization in Apiculture. After graduate school, Dan joined the laboratory of Dr. Jamie Ellis at the University of Florida where he specialized in honey bee pesticide bioassays and Varroa management, taught several beekeeping courses at extension events, and established the Honey Bee Club at the University. He joined Bayer in 2015 where his primary responsibilities include pesticide safety evaluations and support of Bayer bee health research initiatives. Dan's expertise and background include environmental toxicology and risk assessment, Varroa biology and control, and honey bee nutrition. He has a wife and two boys that assist in their small beekeeping business, Ridge Trail Honey.
Tim Scheer is a hobbyist beekeeper, first starting out in high school with a swarm and then rediscovering beekeeping 15 years ago.  Tim is on the Board of Three Rivers Beekeepers and has served as past President.  Tim hosts our popular Q&A sessions at 6:00 PM before regular club meetings, helping and mentoring our new beekeepers each month.
James Masucci is a molecular biologist with a 22-year tenure at Monsanto/Bayer in Biotechnology, Regulatory, and Chemistry.  Jim manages 100 hives and has a sideline business selling bees and honey.  Jim works with commercial beekeepers in some of the largest field trials to evaluate new mite control products that are being developed.
For more information, call Eugene Makovec at 314-703-7650
REGISTRATIONS MUST BE RECEIVED BY JANUARY 27, 2022, 12:00 pm
READ THIS BEFORE REGISTERING:  There are 2 steps to registration.  You must complete both steps to have your reservation confirmed.
Register below with Three Rivers Beekeepers

After completing the following Registration you will be taken to PayPal for payment.  Complete your payment.
Thank you! 
---
REGISTER HERE:
Privacy Disclaimer:  We understand the value of your personal information, so we feel it is important to identify that the information below is retained by Three Rivers for the administration of this event, but once you hit "Submit" you will temporarily leave this website and be transferred to PayPal to complete the purchase of your reservation, and then returned to our website.  All credit card information is retained and handled through PayPal, which will also issue an email receipt of your purchase