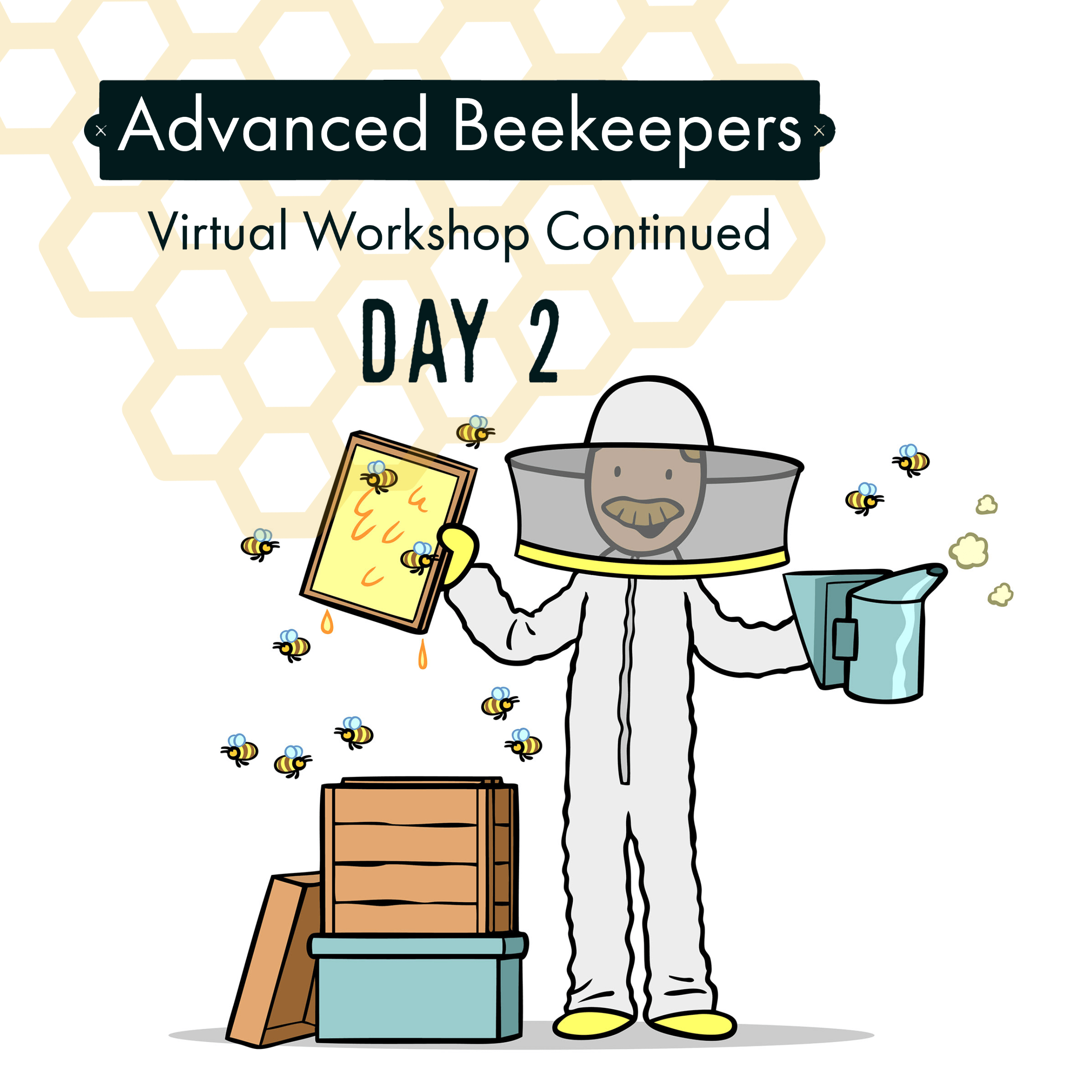 Advanced Beekeeping – Day 2
February 1, 2021 @ 6:30 pm

-

8:30 pm
 Advanced Beekeeping – Day 2
Managing Single Deep Brood Box Beehives
This Workshop is DAY 2 of the 3-DAY Advanced Beekeeping Event that started on January 4th.   This session will feature Ian Steppler who will discuss "Managing Single Deep Brood Box Beehives".
NOTE:  IF YOU HAVE ALREADY PARTICIPATED IN THE FIRST EVENT ON JANUARY 4th – PLEASE KNOW THAT YOU ARE ALREADY REGISTERED, AND SHOULD RECEIVE AN WEBINAR ACCESS LINK IN YOUR EMAIL TO JOIN THE CALL – PLEASE DO NOT REGISTER AGAIN.
IF YOU MISSED THE FIRST SESSION…  and want to attend this and/or the last session, you can use the form below to get registered, but realize that the price remains at $30 regardless of the number of events you attend in order to accommodate the administrative time incurred to get you added to the program.
INFORMATION:
We anticipate large participation in this event, so please be prepared with Zoom installed on your computer and be ready to go at 6:30 as we will start promptly to honor the time of all involved.
If you have questions, please contact Jim Stellern directly at treasurer@threeriversbeekeepers.com
For Technical Questions related to how to use Zoom, please refer to Zoom Technical Help.
PRESENTER BIO:

Ian Steppler, married to Sandy, father of 5, farms with his family near Miami Manitoba Canada. His family farm is a third-generation farm started by Ian's grandfather and carried forward by his parents. They crop 3500 acres of land, calve 500-600 head of purebred Charolais cattle and manage a 1200-1500 hive apiary. Since Ian bought his first 4 hives 19 years ago he has dedicated his life passion towards beekeeping. Ian credits the current standing of his apiary to others on whom he has leaned on over the years to help guide him through many management, logistical, and husbandry issues. Ian is a big believer in paying it forward which motivates him to share his successes and failures with others. Follow Ian's YouTube channel: A Canadian Beekeeper's Blog.
---
IF YOU MISSED THE FIRST SESSION AND ARE JUST NOW JOINING THE WORKSHOP, PLEASE GET REGISTERED HERE:
READ THIS BEFORE REGISTERING:  There are 3 steps to registration.  You must complete all 3 steps.
Register below with Three Rivers Beekeepers

After completing the following Registration you will be taken to PayPal for payment.  Complete your payment.

After making payment there will be a button at the bottom of the page "Return to Merchant".  You must return using this button.  You will be taken to a page acknowledging your registration. On this page is the link to the Zoom Meeting.  You must click on this link to get the Zoom webinar codes.
Three steps
Thank you!
Privacy Disclaimer:  We understand the value of your personal information, so we feel it is important to identify that the information below is retained by Three Rivers for the administration of this event, but once you hit "Submit" you will temporarily leave this website and be transferred to PayPal to complete the purchase of your reservation, and then returned to our website.  All credit card information is retained and handled through PayPal, which will also issue an email receipt of your purchase.
Share This Story, Choose Your Platform!