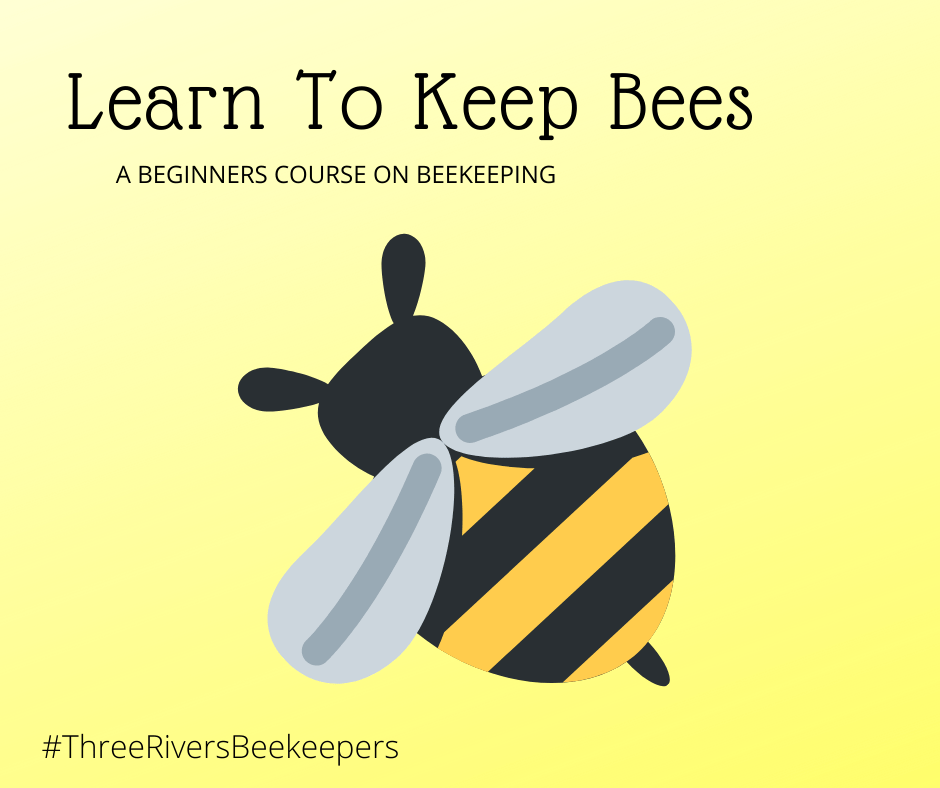 Beginning Beekeeping Course
January 24 @ 6:00 pm

-

January 25 @ 5:00 pm
This course starts tonight.  We are on!  Walk-ins welcome.
LEARN TO KEEP BEES IN 2020!
(A Beginners Course for Those Looking to Become Beekeepers)
Three Rivers Beekeepers is offering a Beginning Beekeeping Course on January 24th and 25th (Friday 6:00 pm – 9:30 pm and Saturday 8:30 am to 5:00 pm).  Come learn about the fascinating honey bee and how to manage them and their home, the beehive,.
This class, taught by popular, local experienced beekeepers, will prepare you to keep and care for bees. Lunch and refreshments are provided on Saturday.
You'll also be invited to join Three Rivers Beekeepers, at no charge, for continuing education and mentoring.
WHEN:   Friday, January 24 (6 pm – 9:30 pm), and Saturday, January 25 (9am – 6pm).
WHERE:  University of Missouri Extension Center at 260 Brown Rd. in St. Peters, MO 63376
HOW:  Register Online  (Using the Form Below)
HOW MUCH: $85.00 per person (Saturday Lunch Included).
SPEAKERS and TOPICS:  Eugene Makovec, Joe Copeland, Tim Scheer, James Masucci and Tim Fredricks
Honey Bee Biology
Basics of the Hive
Basic Beekeeping Equipment
Purchasing and Assembling Hive Equipment
Obtaining and Installing Honey Bees
Inspecting and Managing the Hives
Solving Common Beekeeping Problems
Preparing Your Hives for Honey Collection
Tim Fredricks is a scientist by training and has been developing additional expertise in apiculture over the past 8 years.  He actively participates in Three Rivers Beekeepers club and is currently serving as the President of Three Rivers Beekeepers, co-founded a bee club at work, and for fun maintains 10-20 beehives primarily for queen, honey, and nucleus colony production.  He enjoys bee related outreach activities, mentoring new beekeepers, and helping teach beekeeping techniques including queen rearing through grafting.
Eugene Makovec is a third-generation beekeeper with 24 years of experience. He is Editor of American Bee Journal, past President of Three Rivers Beekeepers and a two-time Missouri Beekeeper of the year. He currently manages a dozen hives in Lincoln County.
Joe Copeland has been keeping bees for nearly 2 decades, currently managing 4 hives.  Joe was an original member of Three Rivers Beekeepers, attending the very first meeting.  Joe has served the Three Rivers Beekeepers board in various capacities and as Treasurer for 4 years, helping to professionalize our club and its status with local and state governments.
Tim Scheer is a hobbyist beekeeper, first starting out in high school with a swarm and then rediscovering beekeeping 15 years ago.  Tim is on the Board of Three Rivers Beekeepers and has served as past President.  Tim hosts our popular Q&A sessions at 6:00 PM before regular club meetings, helping and mentoring our new beekeepers each month.
James Masucci is a molecular biologist with a 22 year tenure at Monsanto/Bayer in Biotechnology, Regulatory and Chemistry.  Jim manages 100 hives and has a sideline business selling bees and honey.  Jim works with commercial beekeepers in some of the largest field trials to evaluate new mite control products that are being developed.
For more information, call Eugene Makovec at 314-703-7650
Seating is limited, so please fill out the form below to reserve your spot right away!
---
REGISTER HERE:
Privacy Disclaimer:  We understand the value of your personal information, so we feel it is important to identify that the information below is retained by Three Rivers for the administration of this event, but once you hit "Submit" you will temporarily leave this website and be transferred to PayPal to complete the purchase of your reservation, and then returned to our website.  All credit card information is retained and handled through PayPal, who will also issue an email receipt of your purchase.